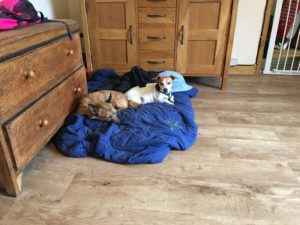 PIP HAS NOW FOUND A NEW HOME IN CORNWALL!
Pip is a 5 year old Jack Russell cross Chihuahua neutered female. Pip came in to the rescue as she was starting to fight with her mum, this is really common with two unspayed bitches. The money was offered to spay both dogs but the owner decided she did not want to do this and re-homing was the best option.
When Pip arrived she was a very nervous dog and spent the first two weeks trying to escape from her foster home, we think this is solely because she had not been socialised, all this change was just too overwhelming for her. However with time and patients she soon came round.
Pip was then spotted by a lovely lady in Hayling Island who adopted Pip and all seemed to well. Unfortunately for Pip her road to her forever home was not going to be a simple one.
Two weeks after being adopted, Pip was running around on a walk and seemed to hurt herself, she was whipped to the vets by her owner and it was at this point that we discovered she had a condition called a luxating patella, this is where the knee cap dislocates. Sadly for Pip this was a grade three and on both knee's, it would have been going on for sometime and we just couldn't understand why we had not spotted it why she was with us. After a long conversation with the vet it was explained that her type of luxation was only easy to spot when it came out of place. Jack's are also known for having a high pain threshold and being good at hiding when they are poorly.
A week later Pip was booked in to have her first leg operated on, the surgery went really well, however Pip really struggled with the recovery and her new owner just could not cope with the level of care needed after having such major surgery and with the other leg needing operating on, it was decided that it was best for her to come back to the rescue.
We were all worried about what effect this would have on Pip, as although it had only been a short time she was very attached to her new owner. Thankfully for us she seemed super happy to be back.
Pip is going in next week to have the operation on her second leg and as long as everything goes as smoothly as the last leg, Pip will be ready to go to a new home in 6 weeks. For anybody interested in Pip our vet is more than happy to discuss her condition with you and the implications it has on her. The main negatives are as follows:
1: Her knees will not be able to be insured
2: Although both of her knee will have been fixed, as with any operation this is not guaranteed. Although it rarely happens sometimes the operation can fail later on and the procedure will need to be completed again at the new owners cost. This is around a £1000 a leg.
3: When she gets older she will be more susceptible to arthritis in her knees at an earlier age, this is the same as us humans if we have had any major surgery on a part of our body.
4: We would recommend that she stays on a joint supplement for the rest of her life, this will cost around £8 a month
Pip is good with other dogs (although until she gets to know them she is grumbly with them when they come near her) she is good with cats as long as they stand their ground with her, she is good with horses, good with chickens, NOT good with small furry animals, good on and off the lead, great to be left for up to 5 hours (as long as she has another dog for company) visiting children would be fine, but because of the Chihuahua side she is very much a Diva and I would not trust her 100%, I think if they accidentally hurt her, she would nip them.
Pip is a fun loving character, she loves being out with the farm animals and her favorite game is chase the quad bike! She loves coming to muck out the horses and spends her time pretending to be a first class ratter! She has been out on walks with up to ten dogs and has been right in there. Pip can be a Diva and this behaviour has to be kept in check or she will get above her station. Pip will try and tell you she needs to be carried over certain obstacles, this is not true! when you tell her to get off the sofa because your eating, she will roll over and start to shake (I'm too weak and sacred to get down) This is utter nonsense. Pip is super clever and if she can get you to do everything she wants you to do, she will. However she is quick to learn, it only took her two days to learn that that rubbish does not wash with me!! lol
If you follow this link to our Youtube page there are a few videos to show how nutty and funny this little girl is! All Animal Rescue You Tube Page
Pip is fully vaccinated, micro chipped, neutered, up to date with all flea treatment and comes with 5 weeks free insurance. If you feel you could offer Pip a home either call 02380 893188 or e-mail [email protected]