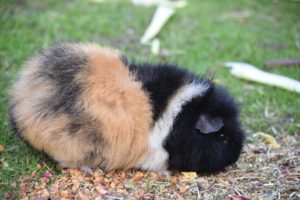 Punky Pig has gone to a lovely new home in Alton.
Punky Pig is a 2 year old neutered male cross bred guinea pig. Punky pig came in to the rescue as his owner was no longer able to care for him.
Punky pig is a good boy, as many people know here at the rescue they have the free run of a rabbit and guinea pig proof garden and for when we are not around a 24ft by 12ft run, so catching a fast guinea is not always easy, however punky pig is brilliant, put a cat box down and he will climb right in and then you can pick him up from there. Punky pig lives outside in a insulated hutched in a mixed herd.
Punky pig is micro chipped and castrated. If you feel you can offer Punky Pig a home either call 02380 893188 or e-mail [email protected]