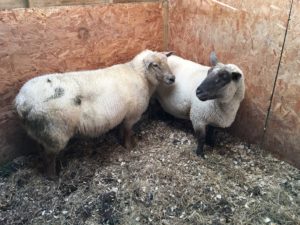 Sheila and Barbara are two Sussex Cross Ewes. They came in to the rescue as the owner was unable to keep them anylonger.
Sheila and Barbara had not had much handling when they came in to us, but are now quite happy once they know you to have a stoke and Sheila quite likes a bum scratch.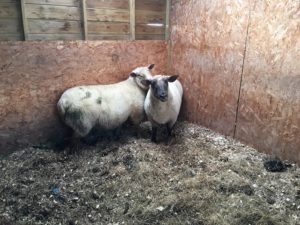 These two are super food orientated so will do anything for a tasty snack and will quite happily follow a bucket. They are currently sharing a field with horses and have learnt to keep out of their way.
Sheila and Barbara will need a field that is fully stock fenced with a small shelter to get out of the rain. Their new owners must have a good knowledge of what is required to look after sheep and must be able to find someone local to them that is happy to tend their feet and sheer their fleece in the summer months. The new owners will also require a Defra holding number Click here for details on how to obtain a Defra holding number
Sheila and Barbara are defra registered and up to date with all worming. If you feel you could offer Sheila and Barbara a home, either call 02380 893188 or e-mail [email protected]