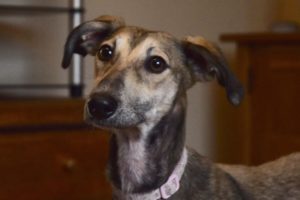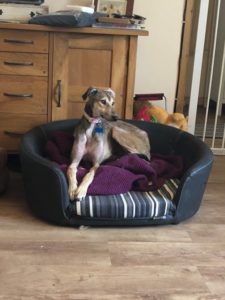 NOW IN A LOVELY NEW HOME IN SWAY
Dobby is a 8 month neutered female, Saluki cross Whippet. Dobby was found abandoned and in a really bad way, she was bald due to  Demodex and had the dread killer Parvovirus. The odds of her surviving were not good. Despite all of that she survived!
Dobby is a real character, she is good off the lead and is learning to walk on a lead nicely, she is great with other dogs, she is good with cats that will stand up to her, good with chickens, sheep, cattle and horses. However she gets a little too excited with small animals so is not to be trusted.
Dobby is very much a puppy and her toilet training is 98% of the way there, she does need to be crated when left as she is in to everything and at present she can only be left for up to 3 hours. Dobby is great with children over the age of 5 years and would slot in to any household. Dobbys skin is still healing and she may be prone to flare ups if she becomes unwell during her life, as she has already had this condition it will not be insurable and this will have to be something that a new owner takes into consideration before they take her on.
Dobby is fully vaccinated, microchipped, neutered, up to date with all flea and worm treatment and comes with 5 weeks free insurance. If you feel you could offer Dobby a home either call 02380 893188 oe email [email protected]