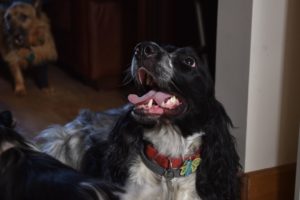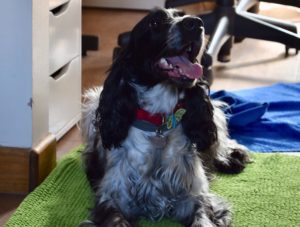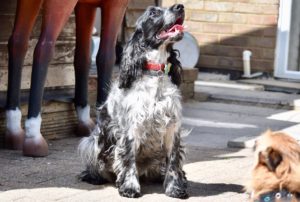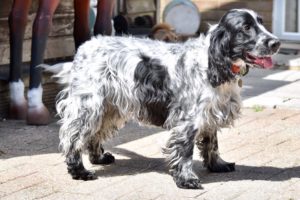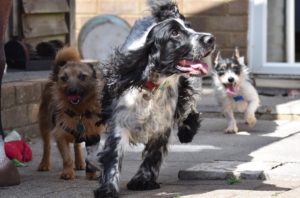 Barney has now found a lovely new home in Portsmouth.
Barney is a 4.5 year old neutered male, blue roan Cocker Spaniel. Barney has come to the rescue to be re-homed under very unfortunate circumstances, his mummy is having a lot of operations and for the foreseeable future is unable to give him what he needs, so has made the super brave decision to find him a new home.
Barney is a working Cocker cross show Cocker, he has the looks of a show cocker and the mind of a working Cocker! Barney is full of energy and is your typical nutty Cocker, he loves to play with his toys, is great with other dogs, good with cats, great off the lead, will ignore cows, horses, donkeys and deer on the forest. Barney knows all basic commands such as sit, wait, down, he is crate trained and can be left up to 5 hours.
Barneys negative points are that he is food obsessed and has occasionally shown food guarding,  the most he has done is growl and air snap ( however it has always just been a false threat, as we have always been able to take it back, that is of course if he has not already eaten it!! lol) With this in mind, although he is great with children, we would not want to place him in a home with any children under the age of 12 years old. Barney is a food thief so he will steal if given the opportunity, this also goes when he is out on walks, he will invade a tourists picnic!! Barney does need further lead training, as he can be over excited when initially out on a lead walk.
Barney has a lovely nature and would really suit a busy household, that love their outdoor activities that he could join in with.
Barney is fully vaccinated, micro chipped, neutered, up to date with all flea treatment and wormer and comes with 5 weeks free insurance. If you feel you could offer Barney a home either call 02380 893188 or email [email protected]