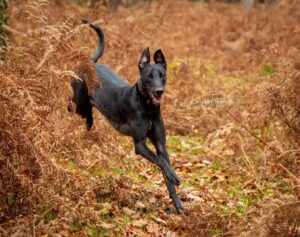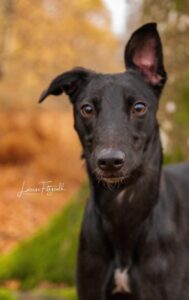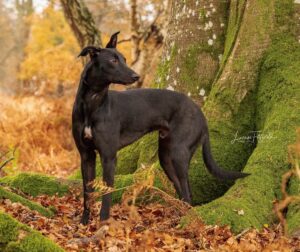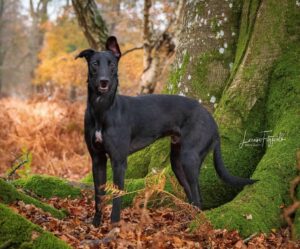 Rupert is coming back from his recent home trial through no fault of his own, unfortunately he had a personality clash with one of the other dogs in the house.
This is one of the reason's we do a home trial, as you never really know how dogs are going to get on until they live together. Rupert is an anxious dog and needs a firm, fair and friendly leader to show him the way and I think poor Spanner found his collie brain a bit annoying and was happy for it to just be him and his lady friend.
Rupert is a 1-year old black neutered male whippet-cross-greyhound with a dash of collie! Rupert came in to the rescue as his owners had taken on a bit more than they were able to cope with.
Rupert is a sweet little chap who would make a great addition for the right owner. Rupert is great with children from the age of 5 up, although he has lived with cats in the past, he has now decided that they are good for chasing, however if one stands up to him, he is not very brave, he is great with other dogs, fabulous off the lead, however his walking on the lead needs some work, we have moved him to a harness which is helping with this.
Rupert is a quirky little fellow! He bonds incredibly quickly and suffers from mild separation anxiety and will yip if left and if toilet roll is left near him, he will happily shred it and decorate the room he is in with it!!lol.
Rupert is not a natural leader and MUST go to a home with another dog as he looks to them for direction and stability. When meeting new dogs he can be a bit over enthusiastic, however if they tell him to go away, he will leave them alone.
We have been taking Rupert to Flyball to see if he likes it and he is taking to it like a duck to water!! He loves it, so we are really looking for an owner who will carry this on. When you see him train and see that big goofy smile on his face, you will see why we would like him to carry it on.
Rupert needs an owner who is confident, calm and consistent, this will in turn give him the confidence he needs to settle. Rupert does not have a malicious bone in his body and will make a wonderful addition to the right home.
Rupert has become a solid favorite here at the rescue and whoever gets him is going to have one hell of a dog!
Rupert is fully vaccinated, micro chipped, neutered, up to date with all flea treatment and worming and comes with 5 weeks free insurance. If you feel you could offer Rupert a new home either call 02380 893188 or e-mail [email protected]