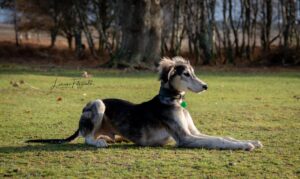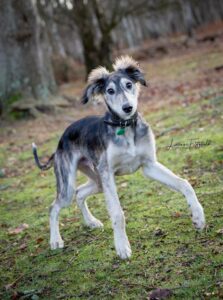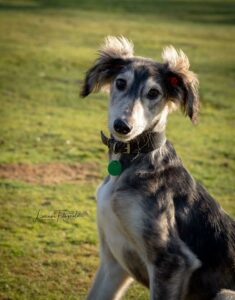 Buddy is a 5-month old Saluki-cross male pup. Unfortunately, Buddy's first owners had (by their own admission) made two classic pet-purchasing mistakes: not researching their chosen breed and not researching the breeder. When they went to pick up Buddy it turned out to be a puppy farm and instead of turning away when they realised that it was dodgy, they purchased Buddy because they did not want to leave him behind.
Most of you are probably thinking that you would do the same, however by doing this you are telling these people that there is a market, that people will come and buy them because they feel sorry for the dogs. My recommendation is to take as many photos as possible, get the seller to hold the pup so you can take a pic, take as many pics of the environment and then let them know you are thinking about it. Then report them to your local dog warden and RSPCA. If people didn't buy the puppies, then the puppy farms will stop breeding them!
Back to Buddy! Being a puppy farm dog, Buddy came with both behavioral and medical problems. His original owners tried, but his needs where beyond their capabilities and they took the brave decision to ask for help and admit their mistakes. It was hard, but by doing this they have ensured Buddy has a future.
Buddy came in to the rescue with the worst food-bowl related food-aggression I have ever seen, he had not been socialised with other dogs and life in general and was still not toilet-trained. Luckily for Buddy he landed on his paws in his foster home: his new human and doggy family took him and his issues on and are working through them.
We are now a month on and Buddy is more confident and happy in new situations and will only hide from a few dogs! He is much more confident with children and his food-bowl aggression is very much reduced. Salukis are known for being a difficult breed to train: they can be very stubborn and lazy!! It is absolutely vital that he goes to a home that will continue with his training and that has a good knowledge of sight hounds and ideally of Salukis specifically. Buddy would be fine to go with children over the age of 10 years old , he is good with cats and horses and is fine with chickens and ducks when they are behind fences, but when they are out he will chase them. Buddy is good to be left for up to 3 hours with another dog for company and he needs to go to home that allows dogs on furniture; Buddy's favorite thing in the world is to cuddle up on the sofa, so this is an absolute must!
Buddy is fully vaccinated, micro chipped, up to date with all flea treatment and worming and will come with 5-weeks free insurance. He will be neutered before being re-homed. If you feel you could offer Buddy a home either call 02380 893188 or e-mail [email protected]