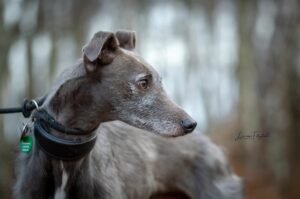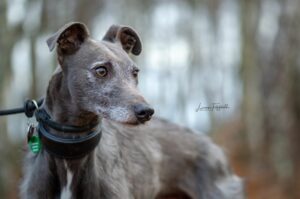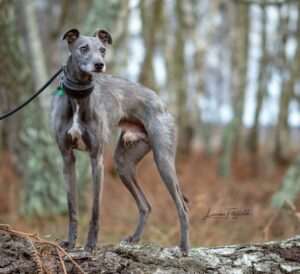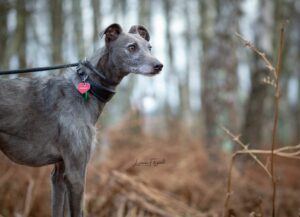 Enzo is a 4 year old castrated male Whippet-cross. Enzo came in to the rescue as an unclaimed stray, so sadly we have no prior history on him.
Enzo is a lovely boy, good to be left for up to 5 hours and he is crate trained. He is clean in the house, however he was an entire male when he came in to the rescue, so if he goes into a house that smells of dog, he has tried to mark, but if you tell him no he does stop and this habit will die down as the testosterone wears off!
Enzo is great with all dogs except for small, fluffy, yappy dogs (chihuahua types) as an unfortunate aspect of his one negative point: his prey drive!! Enzo has a very strong prey drive, he has been taught to wear a muzzle (just to be on the safe side) but he will still chase. He will generally ignore horses, but will chase if they run. He is not good at all with sheep, rabbits or cats. He hasn't been bothered by chickens or ducks behind a fence. Enzo does pull on the lead, and while generally great off the lead, he will become strangely deaf if he see's something to chase! We always walk Enzo on part of the forest where you can see for miles, that way we can call him back and put him on the lead if we see anything he might want to run after. This process seems to work well and we haven't had anything go further than chasing, but it is something a new owner would definitely have to be very careful with.
At home Enzo is a delight: he loves a cuddle and is great with children over the age of 8 years old. Enzo needs to go to a home that has experience with high prey-drive sight hounds.
Enzo is fully vaccinated, micro chipped, neutered, up to date with all flea treatment and worming and comes with 5 weeks free insurance. If you feel you could offer Enzo a home either call 02380 893188 or e-mail [email protected]