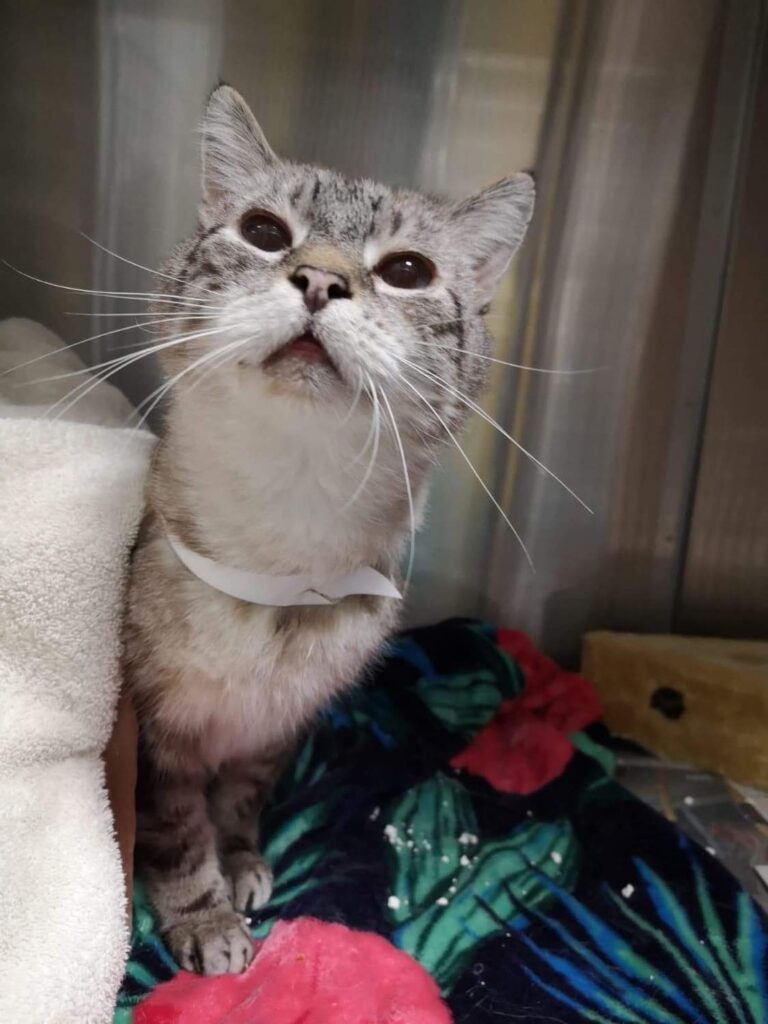 Update 13/03/2022
Snowey has sadly started to become unwell again, after multiple tests at our vets it appears he now has a cyst on his liver, he is off to Anderson Moores referral vets to see if there is anything that can be done. He is still in good spirit's which is why we are happy to continue the good fight for him. Snowey just likes to spend money, he is nicknamed the gold plated cat!!
Snowey came in to the rescue in December 2020. He had been dumped at a vets at the age 12 by his owners and was in a pretty bad state.

Poor Snowey had a mouth full of painful rotten teeth, an abdomen full of parasites and this gave him the worst poops. Parasites can cause Diarrhea, left for a long time leave the animal is in constant abdominal pain and dehydration. Where it had been left for so long it was just starting to have an affect on his renal system, so it was not looking good!

We started with his dental and most of his teeth had to be removed, sadly during the operation he aspirated some of his saliva and this in turn gave him a chest infection and at one point this was touch and go!

Snowey being the fighter he is pulled through and we then started on his parasite load, this took us 3 months to get under control and then another month for his digestive system to start to recover.

We were just at the point where we thought Snowey would be ready to find a new home, but he threw a spanner in the works! He has now developed Horners Syndrome https://vcahospitals.com/know-your-pet/horners-syndrome-in-cats, with Snowey being a little minx at the vets, with his vision declining and with his new condition Sarah and Ross decided that he can live with them for the rest of his days as a long term resident. They have learnt how to handle him and he has learnt their house, so when his vision completely goes he will still be able to navigate his way around. We secretly think this was what Snowey was aiming for, as since the decision has been made his health has stopped declining!

If you would like to make a donation towards Snowey's on going care, the details are as follows:
Lloyds
All Animal Rescue
30-90-85
14710568