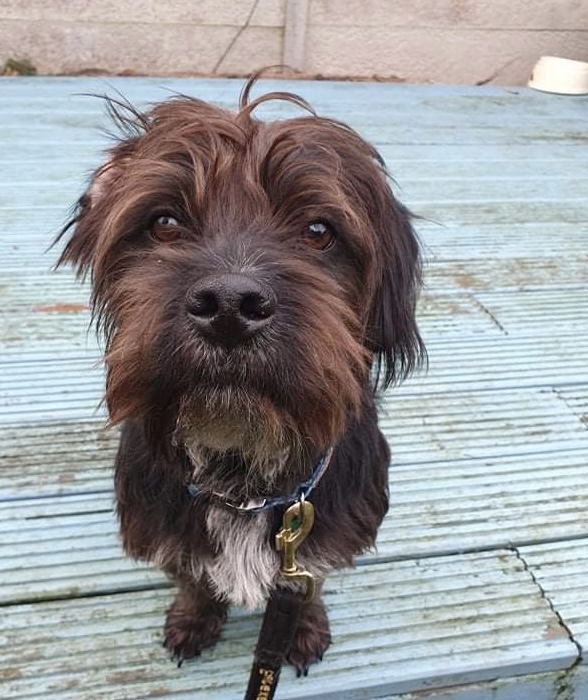 Bear is a 10 month old Springer Spaniel, Dalmatian, Shih Tzu mix, brown roan neutered male puppy!
Bear came in to the rescue as his first owner purchased him as a 7/8 Shih Tzu so was expecting him to be no bigger that 8kg as that was all she would be able to manage fully grown, well he soon whizzed passed that and his owner was struggling to manage him on the lead, so he was passed to his next home who was also hoping he would not be that big! His second owner also could not manage as at this point he was 18kg and still growing, his owner did not want him to continue being passed from pillar to post so have him to us to find him a forever home.
Bear is a lovely boy, now weighing in at just over 19kg, he may look small in his pictures but in reality he is a medium sized dog with no legs!
Bear has an epic mix of breeds in him and this will require a dedicated owner/ family who is willing to put the hours of training in that he needs.
This cute boy has the spaniel nose, combined with the Dalmatian endurance and the selective deafness of the Shih Tzu!
Bear is fantastic with children over the age of 6, he would not suit being an only dog as he very much relies on a companion for play and company. With a dog companion he can be left in a puppy safe zone for up to two hours.
Although he has no malice towards small animals and cats, he is far to excited and distracted by them and with that nose their is no hiding them from him, so a home without these is essential. Initially he was fine to be crated, however he will now howl and becomes extremely stressed, so we now leave him in the lounge which is puppy proofed. His new garden would need to be securely fenced as he likes to go off on adventures.
Bear is learning to walk nicely on a lead, however his recall is not 100% yet so any new family would need to be committed to completing this training before he is let off in public. He is clean in the house 95% (just the odd baby accident) And once he has finished playing he loves nothing more than to snuggle up on the sofa for a cuddle.
Bear is fully vaccinated, microchipped, neutered, up to date with all flea treatment and wormer and comes with 5 weeks free insurance. If you feel you could offer Bear a home please email [email protected]